What Happened to Chu Lai?

Article and photos courtesy of John Fritzinger

It was Sunday, March 14, 1999. As I arose that morning, I went through my usual routine of lighting a cigarette; getting a cup of coffee and retrieving the newspaper from my front lawn. Everyone dissects a newspaper differently and I usually check the Business section first, Metro second, National third, Sports fourth, and never bother with the other sections. However, today would be an exception. For some odd reason, the travel section was being advertised on the front section of the paper and I kept finding it while selectively going through my newspaper dissection ritual.

Of course, you can imagine what headlined the travel section; it was none other than Vietnam, but this was not your usual syndicated travelogue about Vietnam by some author unknown to me. It was quite the opposite. The four page in-depth article was written and experienced by a fellow journalist and friend of mine, Jim Varney.

Jim had been to Vietnam in '93 and again in '98. In 1998, he had traveled extensively in the Da Nang, Chu Lai, and My Lai areas of what I used to know as southern I Corps. For the first five months of my tour, I was with the Duc Pho LRRP platoon and knew the area well. I was transferred to Chu Lai in March 1969 and finished out my tour there.

After reading his article and late that day, speaking with him by phone, my aspirations of returning to Vietnam were rekindled. I made some phone calls to travel agencies and tour groups that specialize in taking trips to Vietnam, but none of them had the itinerary I had in mind.

So I called several fellow LRRP's to see who would be not only interested in going back to Nam, but who would be willing to do it my way, which would be very unconventional.

Michael Chu from Hawaii and Dave Swires from Nebraska said yes. When they said yes, the seeds of an idea began to germinate in my mind: to put this trip together and rediscover a land and her people whom we had left 30 years ago. As for my unconventional way of doing things, it's very simple; on our return trip to Vietnam, let's just get there and then decide what we're going to do and how we are going to do it.

It was both a scary and challenging way of doing things, but this way we were free to come and go, as we desired. All the travel agencies and tour groups told me we would have a very difficult time of it, especially with three former LRRP's traveling around the country so freely. We'll see?

So tickets were purchased, passports were updated with visa and a date of July 18, 1999 was our ETA in Vietnam. As many of you know, Murphy's Law went into effect about a week after Chu, Swires and myself finalized our trip itinerary. Chu was called back to Seoul, Korea on business and would miss the first six days of our trip. So, as fate would have it, because of time and flight in country, Swires and I were forced to do Da Nang and Chu Lai without Chu. Michael, you don't know what you missed.

Swires and I spent the first three days of our trip in Saigon typical tourist traps and making plans for our journey to Da Nang. We decided to stay in Da Nang our first day there and try to obtain transportation to Chu Lai, Duc Pho, and My Lai on the second and third.

So it was off to Da Nang and things went as planned or we thought it did. After checking into the Furama Hotel and Resort on China Beach, we decided to wander around the deserted Vietnamese beach area and grab a beer. We found this one establishment and the bartender was the singular human being in the place. We each ordered Tiger beer and before we finished them, there were 30 Vietnamese in the joint, wanting to know all about us and if we were Americans.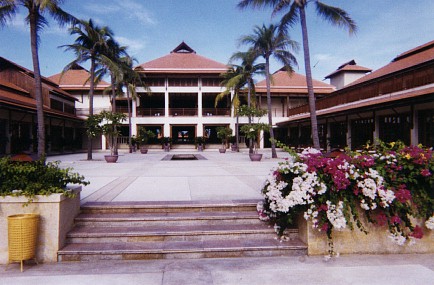 Furama Hotel & Resort on China Beach
We told them that we were Americans and smiles abounded everywhere on the premises. I bought a round of drinks for everyone and the party began.
The party begins
Soon a middle-aged woman named Lan appeared and she spoke excellent English. She offered to be our tour guide with transportation for a price, naturally. Swires was always better than I at cutting deals and I told him to handle everything.

The next day, it was off to Chu Lai, Duc Pho, and My Lai at 7:00 a.m. I realized about a half-hour into the trip that it was going to be a very long day. The driver was only going about 30 to 35 miles per hour and that wasn't going to get it. I told Lan, our guide and interpreter to ask the driver to go faster because cars and tour buses were passing us. She did.

We reached Chu Lai only to find our presence not welcome and were not allowed down the beach road to our old LRRP headquarters. This was very disappointing for Swires and myself. We didn't waste any time and were on our way to Duc Pho for I had wanted to see what remained of L.Z. Bronco and Father Bich. He was a catholic priest who befriended LRRP's at Duc Pho in 1968 and 1969. He also ran an orphanage, which we adopted. And Roth, Thomas, Thiele, and Franklin, teammates of mine during that era, all wanted to know if I could find him during my return trip.

After about three more grueling hours in the car, we reached Duc Pho. Quite simply, we found one old woman that remembered him and told us he was transferred to Cam Ranh Bay about 1974, the VC destroyed the orphanage and L.Z. Bronco was dismantled. With my mission completed in Duc Pho, it was off to My Lai with a stop in Quang Nhai for a very late lunch.

Remembering Father Bich
Upon entering the village of My Lai, there was some guy killing a dog with a shovel on the side of the road. How appropriate. Swires turned to me and said, "There's dinner!"

As we pulled into the parking lot of the My Lai Memorial Park, I was amazed at what I saw. Huge statues and tombstones were scatted around the area where certain events took place on that dark March day in 1968. The entire site was enclosed by fence and an admission fee of two US dollars was collected upon entering. The entire site of the actual massacre isn't very large and we traversed it in about a half-hour.

My Lai Memorial Park
Upon leaving, we stumbled onto an indoor museum that had even more painful memorabilia to look at. It was in the museum where I had my most unsettling experience. Having gone almost all the way through the place, I ran smack dab into Ron Ridenhour's picture on the wall.

Ron Ridenhour On The Wall
As many of you know, Ron exposed the My Lai Massacre and only recently died of a heart attack in May 1998. Ron was a true friend and always sought the truth. As I turned to walk away from his picture, I glanced to the other side of the room and saw Lan, our guide, sobbing. I know why she was crying, but I still had to ask her if she was all right. I felt just awful!

On the way back to our car, Lan thanked me for my kindness and told me that she had heard about the massacre but had no idea it was to the magnitude of what she had just experienced.

It was getting late and we were a long way from Da Nang so we started heading back. All the way back, all I could think about was all of our missed opportunities, trying to do too much in one day and not getting to see in Chu Lai what we really came for.

It was about 5:00 a.m. and I couldn't sleep. I decided to go out to China Beach for a walk and maybe come back and try to get to sleep later. First light was just beginning to peek out of the South China Sea. It was a very calm and windless morning, but I started hearing the lively laughter of children playing in the ocean and on the beach.

My ears were surely playing tricks on me because the only fools up at that hour were my insomnia and I. I reached the end of the walkway from the hotel to the beach and to my surprise; there must have been five hundred children on the beach. They were surprisingly natural, partaking in swimming, soccer, or karate. I was in total amazement, but not surprised. These people make every waking hour of the day be productive for them.

I was very restless and was feeling guilty about not seeing more of Chu Lai and my old headquarters or the mountain ranges that I used to patrol. So I went to breakfast, then a swim in the South China Sea, then a walk down China Beach and nothing seemed to repress my feelings.

Later that day, Swires and I went to the Kim Do Restaurant in Da Nang and I told him about my feelings and that I might hire another taxi to take us to Chu Lai. He said he was game.

We found the same taxi driver waiting for us outside the Kim Do and he said he could get us to Chu Lai in one hour. I told him that was total insanity, because Chu Lai is 108 kilometers away and Highway 1 is a heavily traveled two lane road cluttered with bicycles, motorcycles, cars, busses, and water buffalo traffic, not to mention pedestrian movement and construction.

Taxi Driver
However, we like pushing the envelope and said, "Let's do it!" So off we go and about 10 minutes into our trip, I realized I had a death wish. Mario Andretti had nothing on our driver, Jon. He drove like the wind with an attitude. He was constantly weaving in and out of ongoing and head on traffic and speeding up and slowing down to get back in our lane so we could avoid any and all types of collisions.

At one point, we even passed a Red Cross ambulance with its siren and light going. I kept lighting cigarettes thinking this might be my last. Finally, after an hour and fifteen minutes, we were in Chu Lai. Jon drove us around what was once one of the biggest airbases and division headquarters in Vietnam during the war.

We drove for miles and found everything had been razed. The place was barren and desolate. Anything and everything that had anything to do with the American presence during the war was gone. I was awestruck and speechless for this place at one time, were home to the Americal Division, two Marine Air Wings, several helicopter companies, numerous Army Surgical and M.A.S.H. hospitals, dozens of engineering and transportation outfits, and a whole host of support groups.

Gates of Chu Lai
As I gazed over this vast razed area toward the cloud covered mountain range, I wondered what type of labor accomplished this and to what end. I could only speculate that it was re-education labor. After the fall of Saigon in 1975, the North Vietnamese who had been trying to re-unify the country since 1954 had to re-educate the people of South Vietnam according to their communist doctrine and beliefs. I'm sure it was a difficult time for many in the South, especially if you were wealthy, politically involved, or well educated.

As we proceeded down the road to the beach area, the same guards who gave us the same line once again stopped us: we couldn't go any further. So I said I know another way and then we were met with much more stern resistance and soldiers with AK-47s. It was definitely one of those experiences that brought us to our senses and we decided to let well enough alone. We had seen enough.

Looking Toward LRRP HQ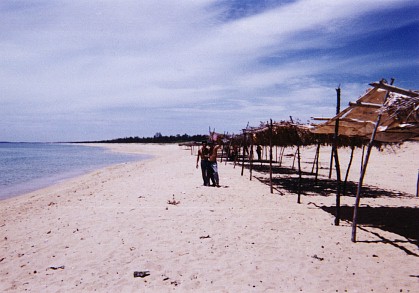 Looking Toward LRRP HQ

From Hospital Looking Towards Cigar Island
So it was back to Da Nang, for the next day we were going back to Saigon. Our driver asked if he could drive a little slower on the way back to Da Nang and in unison we shouted, "YES!"

Where's Chu Lai?