LRRP TEAMS
L- R: Paul A. ("Killer") Rosselle, Robert C. Clark, Daniel P. "Big Mac" McLaughlin (KIA: 1/20/68),
Paul A. Grondines, Michail J. ("Mitch") McMahon, and Daniel Hefty.
---
Front L-R: Vic, Nugent the LRRP dog, Doc Masic, Joe Cope
Back L-R: Dave McLaughlin - "Little Mac", Danny McLaughlin "Big Mac", Garver, Mitchell, Balluf
---
TEAM OKLAHOMA
L-R: Jose L. Rosado, John McGee, Howard M. Kuykendall, Alvin Rooks, and William W. Wilson
---
Seated L-R: Michael S. Wiley (Daniels), Thomas J. ("Tom") Nash
Standing L-R: Dixie T. King, James R. Davidson (KIA: 3/4/68),
David J. Ohm (KIA: 3/26/67), Earnest (Ernie) Pipal.


---
Standing L-R: Ernie Pipal, Tom Nash, Paul Roselle, Dave Travis, Darall K Masuda
Kneeling L-R: Mike Maar, Gerardo Leyton, Bob Miller, Lewis Watson
---
TEAM ILLINOIS

---
TEAM MOSCOW
Standing L-R: Pete Cuevas, Dan Barden, John Curtis and Allan Roehl
Kneeling L-R: Frank Svensson, Leroy Johnson and Al Stewart
---
TEAM GEORGIA
L-R: Ron Ellis, Shawn Ranahan, Steve Johnson, Ben Carey, Bill Martin
---
L - R: Jim Gromacki, John Schultz, Robert Kalaway,
Bob Pruden (KIA: 20 NOV 69, MOH), Danny Jacks, Edward Beattie

---
TEAM OKLAHOMA
L - R: Doug Odom, Bob Parker, Sam Day, Bob Sedlmeyer, Sammy Schreiber, Don Schellinger
---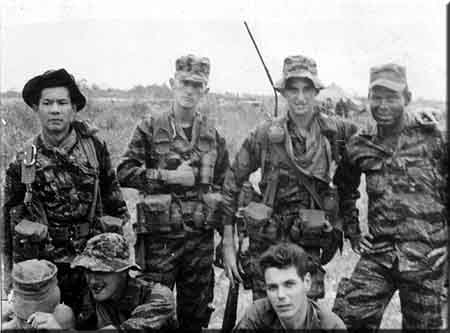 L to R: Standing - Vic Valeriano, Willie Williams, M.B., Earl Toomey
L to R: Kneeling – Bob Clarke, Bob Webber
---

L to R: Darall Masuda, Cecil Crosby, Willie Williams, Max Mims, Vic Valeriano, Mike Maar
---

Standing L to R: Tom Nash, Wayne Price, Paul Rosselle, Tony Mazzucchi
Kneeling L to R: Dave Travis, Bob Clarke
---
Team Texas
Left to right: John Haines, Perry Hughes, Dan Linehan, George Beach
---
Official U.S. Army Photo

196th L.B. LRRP July 1967 @ Chu Lia Helicopter Pad RVN
Standing L-R: Hefty, Howard, Mincey, Haussler, Velleri
Kneeling: Anderson
---
L-R: Gary Bynum, Gary Beecher, Dixie T. King, James R. Davidson
Photographer: Albert R. Brown

Note: If anyone can identify team members on this page, please email names in.